Le Diner En Blanc has arrived in our beautiful city!!!!
I know most of you read that with a super blank look on your face. Don't worry, I was on the same boat as you before I was given an elaborate description of the exclusive event. For those of you who don't know French, (like me, I googled this for you) Le Diner en Blanc means Dinner in White. The end.
Le Dîner en Blanc was launched in Paris more than 25 years ago by François Pasquier and a handful of friends. The reason for wearing white attire during the gathering was for every person in attendance to be easily identified in a public crowd. Since then, over 100,000 foodies and cultural enthusiasts around the world have already embraced this unique event.
This très chic picnic not only promotes friendship, but elegance and graciousness as well. The dining event is going to be held at an unknown location that will only be revealed at the last minute.Over the course of the evening, guests will enhance the function and value to one of Nairobi's signature public spaces by participating in the unexpected.
"We felt that Nairobi was primed for such a dazzling event as the city has always prided itself in enjoying fine living," says LeAnne Peris, co-host of the Dîner en Blanc – Nairobi.
"We hope to make this very first edition a success that will pave the way towards establishing a long-standing tradition."
I attended Le Diner en Blanc's preview party recently accompanied by a bunch of curious cats. We were hosted at the Apollo Centre in Westlands and given the exclusive details of what the dinner will entail.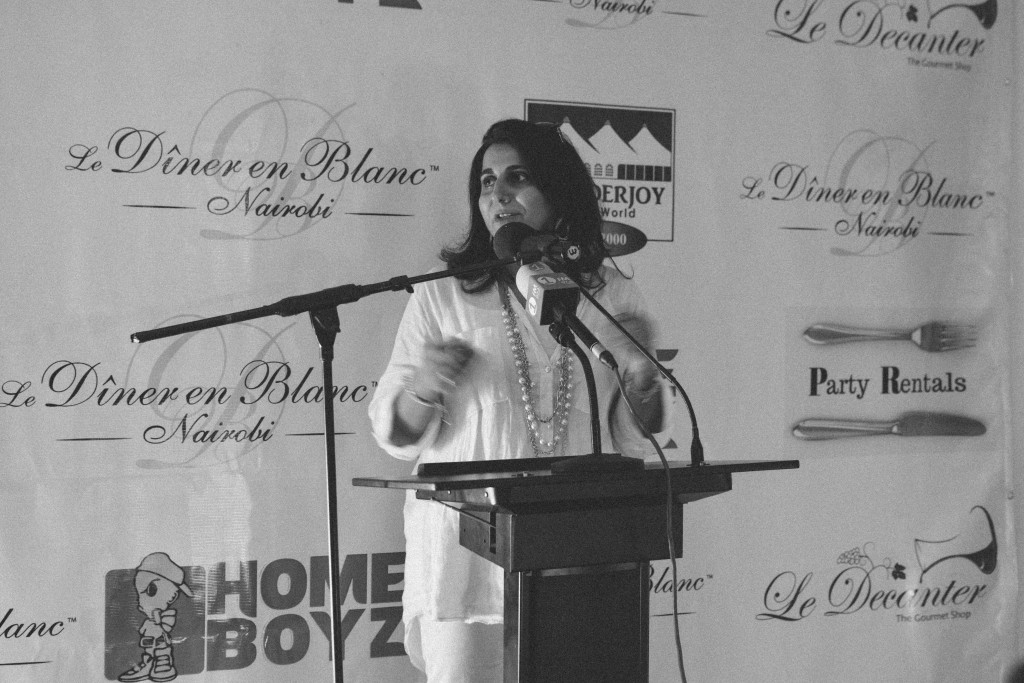 Below are the 10 Things you need to know about Le Diner en Blanc Nairobi Edition
The event will take place on the 5th of December 2015
It is very exclusive and cool as evidenced here
Once confirmed, each guest's participation becomes mandatory, regardless of weather conditions. This is a rain or shine event.
Dress code: Elegant and white only. Originality is encouraged as long as it is stylish and tasteful.
Table setting: All white! (Silver and Gold are also allowed)
To ensure that the location is kept secret until last minute, guests meet at assigned departure location and are escorted by Dîner en Blanc.
In order to leave the event location as clean as when they arrived, guests are required to leave with all their belongings, leftovers and litter.
Guests must bring:
A picnic basket comprising fine food, proper stemware and white dinnerware.
An option to pre-order food, which can be picked up at the site, will be available for those who do not wish to pack their own picnic baskets. Guests wishing to do so must reserve online through Le Dîner en Blanc website during the initial ticket registration.
Champagne and wine allowed.  Beer and hard liquor prohibited.
For full details on the exciting event, visit the official website at: