I love women! We rock!
International Women's Day came and went and although I wanted to throw a super duper bash with all the dope ass women in the world, my budget sadly wouldn't allow. Like…AT ALL. So I went ahead and did the next best thing to celebrate the special day in my own way.
---
It first started with a few celebratory remarks about how special and cool being a woman is!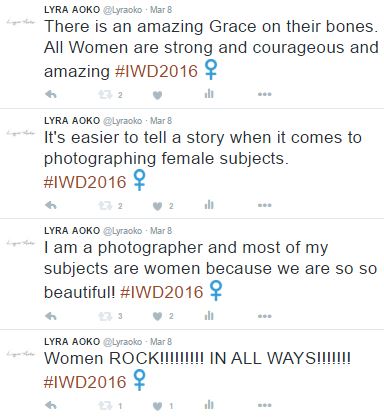 ---
Then came THIS announcement!

One special lady retweeted the post and I was SO happy! You see, Twitter is the online space where people go to talk to themselves and I was 100% sure nobody had seen my tweet. I almost deleted it because THAT would have been embarrassing but luckily a few people did and I was more than elated because the lovely and talented Pauline, of the girl band KIU, was the first person to retweet my announcement.
We have a winner!

If you do not know KIU please do yourself a favor and follow THIS link. THANK YOU!
Even though Kenya Power decided to be Kenya Power and almost ruined our session, we had an amazing photoshoot and these are some of the images I captured that Sunday.
Pauline straight up killed it with a panga!!
Not only is she gorgeous but she is also talented and worked that camera like a pro!
I loved the fact that we also got to talk about music and the direction it is going in our country. Pauline loves country music and has the voice of a thousand angels. She is a confident African woman, an aspiring photographer, a creative soul and one of the reasons I believe in Kenya's music industry.
As a woman, we sometimes get too caught up with life and do not take the time to do the little things that celebrate us. I urge you all to take a chill pill, go for a walk, talk to that person you have been eyeing for a while, buy yourself some flowers, leave the baby with the nanny and have a spa day, go to that fancy restaurant and buy yourself the largest steak on the menu, sleep, wake up, smile, repeat.
Celebrate yourself like you have never done before because you deserve it.You are a woman! A phenomenal woman and you are here, breathing, alive and filled with beautiful feminine energy!
Keep your head up and stay winning always beautiful ladies.
Love and Love