Bungee jumping is an activity that involves jumping from a tall structure while connected to a large elastic cord.
Yes, that is all there is to it. Jumping! From a very high structure! Like a MAD MAN!!
My heart said "HELLLL NAAAYYYY" the second that Bungee jumping plan was made and I am so not ashamed! I am a self-proclaimed wuss and I knew that my mind, body and soul definitely would not be able to handle deliberately jumping off a tall structure with only a rope to save me from diving into the murky waters below me. What if that rope wasn't loyal?? What if I farted mid-air and changed some rule of gravity which prevented me from landing safely?? What if my lack of hair made the wind miraculously shift the direction of my fall with me ending up at a bar in Westlands???
I was about to risk it all for the gram but my brain told me to relax and watch people do it instead… and that is how I found myself at Savage Wilderness one beautiful Saturday afternoon.
We got to the green and lush fields of the nature adventure camp.
I knew we were in for a treat the second I saw this.
Have you ever seen uncertainty written on people's' faces?? It was so hilarious because I literally saw minds changing right before my eyes. Once the instructor shared all the necessary (and lifesaving) details of the bungee jumping activity, all the brave souls were strapped in protective gear, told to really think about their decisions and led to the stairway to heaven where they were to all jump from.
Watch the Video clip from the Savage Wilderness trip.
Madness Right???
It was exhilarating (from a bystander's point of view) and must admit that I almost wished I had tried it out.
Okay…not really 🙂
---
For all the dare devils reading this, Bungee jumping is the bomb.com.
Do not listen to me. 5,000kshs will give you the experience of a lifetime!
Be careful though & wear well-fitting sports shoes.
Thank you for reading.
Love and love.
Lyra Aoko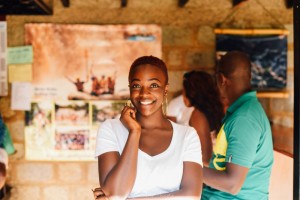 *post update: a few members from this bungee jumping trip developed slight back problems a week after the jump. Please exercise caution while partaking in this activity.